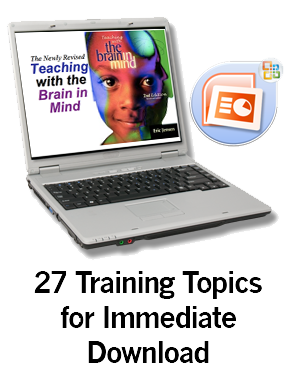 In today's world, budgets are tighter than ever. Principals are now tasked with a great amount of staff training… so we've made it easier for you!
Eric Jensen's Brain-Based PowerPoint presentations to help you deliver a clear concise learning experience and a powerful presentation to your teaching staff.
The PowerPoint presentations have been created for:
Trainers who work with groups of 20 or more
Staff developers who really want to make a difference in the lives of others
Teachers who want a more energizing classroom and
Anyone who currently or will in the future, spend a lot time in front of groups.
All brain-based teaching presentations have title slides and closing slides. Average presentation will be 75-125 slides, depending on the topic. You may customize (in fact, you are encouraged  to do so), your slides by adding your own titles, key themes, strategies, persons of interest, school pictures and activities.
The PowerPoints are intended for the user to customize. The content on these PowerPoints is designed to support the structure and body of your intended presentation – please note that notes are not included. You'll want to add title slides, school based specifics and, of course add the activities and processes that make it come alive.
To View A Sample PowerPoint Presentation Click Here.
Powerpoint Presentations are grouped below by specific audience and goals… and for a limited time, are now reduced from $99 to only $79 each. * Checks/Purchase Orders Accepted for PowerPoint Orders of 3 Or More items.
Click here to view complete list of Teacher Staff Development PowerPoints
SPECIAL: Our Most Popular PowerPoint Trio! Get All Three For Only $158
In this PowerPoint Bundle, you receive:
1) Teaching with the Brain in Mind
This is the newly updated brain-based teaching presentation that helps teachers connect the research with the classroom-practical strategies. You get the brain scans, the key principles and most importantly, the teacher-tested ideas you can use immediately.
This is the fresh, cutting-edge 143-slide session with color, easy-to-understand science and yet still answers the question, "What do I do on Monday?" This shows links to differentiation, enrichment, learning and memory strategies.
Get beautiful brain scans! It is long enough for either a 2 hour, half-day or full day session. Staff will be talking about this presentation for weeks! The support book recommended for this presentation is (of course) Teaching with the Brain in Mind by Eric Jensen.
2) Tools for Engagement
This is a "Tell-all" slide show and "The secret's out of the bag" presentation perfect for staff developers and adult educators. The strategies can be used with students from grades 1-12 and adult.
You get a 148-color slide presentation that gives you the art and science behind engaging teaching. There's no room for excuses or failures anymore. This gives you the all-time 10 best strategies for student engagement.
Expect staff to gain background and strategies to implement immediately. If you're not using these brain-smart tools, you're either working too hard or missing students. It is best used with the book Tools for Engagement by Eric Jensen

3) How to Implement Brain-Based Education
These days, it's hard to avoid hearing about the brain. But what's actually getting implemented and how are schools doing it?
This 96-slide presentation focuses on the 5 cores steps for making the transformation happen at your school. The first is buy-in. This presentation gives you the insider buy-in strategies that make staff approval a breeze! Next, your staff needs to tie it into something. You'll see simple examples of how to do that, too.
Your staff will also need a research base or foundation for the process.
This gives you the core principles that will support the successful teaching with the brain in mind. Teachers need to make connections, too and this shows you how.
Finally, you'll need the action steps. Learn how the top schools make it happen and make it happen at your workplace, too. The support book recommended for this presentation is Teaching with the Brain in Mind by Eric Jensen.