Host Your Own Staff Development With
Eric Jensen's Virtual Teacher Workshop
Enriching the Students of Poverty…
An Eric Jensen Training to Go!
On Sale Now! Affordable 1st Class Staff Development with Eric Jensen's Practical, Achievement-Boosting and Research-Based Strategies!
Now, you can host a staff development workshop on your own, using Eric Jensen's amazing workshop in a box:
The real science behind "brains can change." Learn how IQ is NOT fixed, and get strategies we can all use to influence changes in your student's brain.
Learn four ways the brains of kids from poverty are physically different. Find out what strategies can neutralize and even overcome a childhood from poverty.
Discover how enrichment works and what the country's most successful schools do that matters most to rebuild under-performing students and skyrocket achievement.
Get the powerful "five pillars of success" AND the specific, practical, school-tested strategies that turn schools with 90%+ attendance and 90%+ graduation rates.
Learn the biggest mistakes to avoid. These are the seven deadly sins that derail all school success plans. Avoid them and you'll have a winner!
Absorb the amazing, science-based, classroom-proven secrets that ramp up attendance, slash discipline problems and skyrocket school achievement over and over!
Take decisive action now to get four (4) powerful 70-minute live DVDs. That's four professional development sessions for 280 minutes total!
BONUS: You'll Also Get 6 PDF Guides:
The guides help structure your in-house training program on "Enriching The Brains Of Poverty". In each guide you'll find background material, strategies to put into action, along with specific steps to take to improve your school today. The guides are designed to supercharge your staff.
You get complete, easy-to-follow instructions broken into 6 simple sections, perfect for a staff roadmap for specific classroom strategies. Retail value: $149, but you get this success-building, staff-supporting gold mine of ideas and research absolutely FREE.
The guides include:
Insights on High Poverty Kids
Telescoping the Mindset of Change
Turnaround Champion Secrets
School Wide 5 Super Factors
Miracle Classroom Factors
BONUS Successful Lesson Planning
You can now soak in the cutting-edge content over and over for maximum learning. You can host your workshop in one day, or let your teaching staff take it on their schedule.
The sooner your staff "buys in": 1) that change is possible 2) that change is necessary right now 3) the new science-based vision for change and 4) the accountability to make it happen…, the better.
Every day counts, you must act today! Your staff and your students NEED CHANGE NOW!
It can be done at your school. You can have a high performance school with kids from poverty. Dozens of schools are already doing it.
You can boost learning and achieve success every day. No one is saying, "It's a piece of cake." It's not. Succeeding at your school will take resources. You can bring Eric Jensen to your school, do a book study with the staff or you can have a permanent and compelling in-house resource to use again and again, for one low price.
You have the opportunity to get the best resource available anywhere, at any price.
Click here to order now.
REGULAR PRICE: $999 … OUR PRICE: $775


If you want to get top quality help, get our staff on board this year, and start seeing results
F-A-S-T, use a credit card, check or purchase order for immediate savings of $200

VISA, MASTERCARD, AMEX and DISCOVER cards welcome.
---
NEW: Instant Access to Professional Development.

"Tools for Engagement"
Online Access and Downloadable in 10 min. or Less, PLUS Highly Practical and 100% Guaranteed!
Get four (4) powerful 99-minute live staff development presentations, delivered online. You can now soak in the cutting-edge content over and over for maximum learning.
->> Get Tools for Engagement! <<-
---
NEW: One-Hour Professional Development.

"7 Discoveries from Brain Research that Impact Education"
That's right; this is a relevant, research-based professional development session you can use to present to either administrators or staff. This, in a nutshell, is the new science of learning. This is your ticket to understanding "brain-based discoveries" that will amaze and empower your staff.
Many have called this the most powerful introduction to brain-based learning. Seven core principles are introduced, each with critical links to student achievement. Here's what you get in this fast-paced overview of the recent research.
->> Get 7 Discoveries! <<-
27 Presentation Topics!
Eric Jensen's PowerPoint Presentations For Staff Development: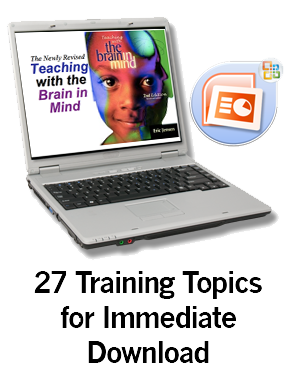 In today's world, budgets are tighter than ever. Principals are now tasked with a great amount of staff training… and we've made it easier for you!

Eric Jensen has prepared a wide variety of PowerPoint presentations to help deliver a powerful presentation… helping you deliver a clear concise learning experience.

Those who've asked us for PowerPoint presentations are most often:

Trainers who work with groups of 20 or more
Staff developers who really want to make a difference
in the lives of others
Teachers who want a more energizing classroom and
Anyone who currently or will in the future, spend a lot of time in front of groups.

Your presentations will have title slides and closing slides. Average presentation is 75-125 slides, depending on the topic. You may customize (in fact, you are encouraged to do so) your slides by adding your own titles, key themes, strategies, persons of interest, school pictures and activities.