Contact Us
Email:
info@jensenlearning.com
Mail:
Jensen Learning
PO Box 291
Maunaloa, HI 96770
Phone:
808-552-0110
(9am-5pm Pacific Daylight Time)
Fax:
808-552-0220
(9-5 pm Pacific Standard time)
How do I have Eric Jensen come directly to my school or organization to work with my staff?
Contact Diane Jensen at (808) 552-0110 or email her diane@jensenlearning.com. She's usually in Monday through Friday, 9-5pm, Pacific Standard Time. After she listens to your needs, she'll fax you a "bid" sheet of information. You'll fill it out and fax it back. She'll evaluate the information you have sent to her and let you know as soon as possible if the work you request can be done. Sometimes, she may suggest alternative dates. If your needs are urgent and she's not available, please leave a detailed message including your name, phone, fax number and email address.
We are sorry that Eric's schedule doesn't allow him to do every presentation that's requested of him. If he is able to work with you, we can promise that he'll do a terrific job. Click here for more details on Eric Jensen's private workshops.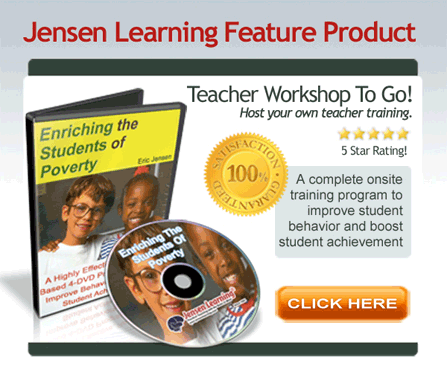 Eric Jensen's latest workshop is available on DVD
along with "The Poverty Success Workbooks".
Six step-by-step downloadable guides (PDF) to
print out for your teaching staff.
---
Join us for an amazing, highly engaging experience that gives you cutting edge insights with easy-to-implement classroom and training strategies.
2018 Jensen Learning Brain-Based
Teaching Workshops:
Click to choose the workshop that's right for you and your school.